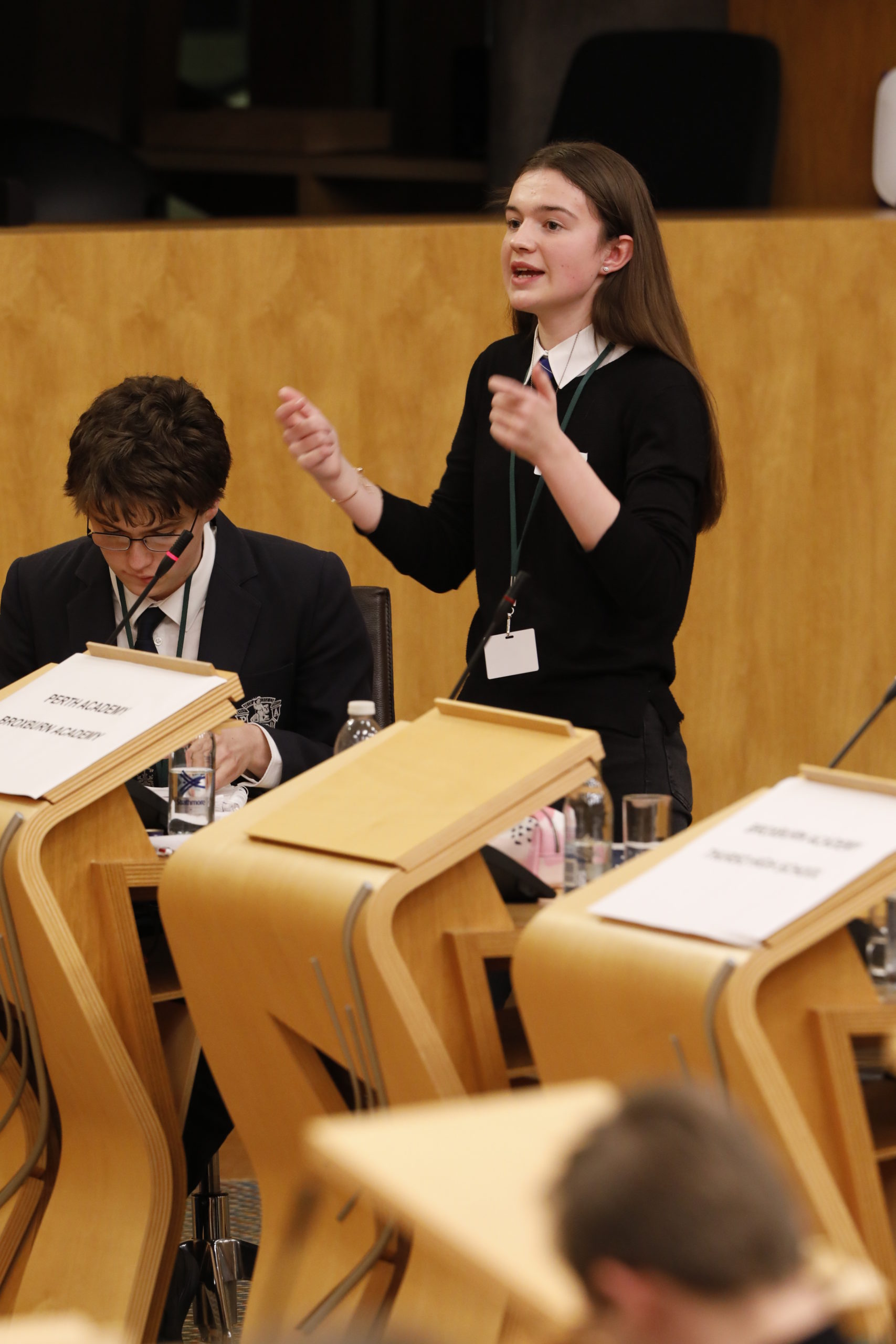 YSS runs two single-speaker competitions: a Senior Public Speaking Competition for pupils in years S4 to S6 (aged 18 or under), and a Junior Public Speaking Competition for S1 to S3 pupils.
Different themes are set for the preliminary rounds and the final, and the format allows pupils to present a creative speech of five minutes on a very broad topic. This provides a forum to develop their own personal speaking style and to build confidence in articulating and sharing their ideas; skills that will help them at school and throughout their everyday lives. Recent themes have included topical subjects and literary quotes.
Speakers are expected to answer questions after their speech, posed by the adjudication panel to help ascertain how well-researched the speaker is.
The Young Speakers Scotland Public Speaking Competitions are funded by a generous bequest from Miss Evelyn Small.
"I'm Magen. As an aspiring lawyer, I found the Public Speaking competition to be great fun. It not only helped to improve my overall public speaking skills, but gave me the opportunity to meet other young people and learn different styles of public speaking. "

– Magen, 2016-17 Schools' Public Speaking Competition Champion
2021/2022 COMPETITION
This year, our Public Speaking Competition has a climate focus, to coincide with Glasgow hosting COP26, and 2020/2021 being Scotland's Year of Coasts and Waters.
If you're interested in taking part in this year's Public Speaking Competition and would like an entry form, please send an email to jordan@esuscotland.org.uk.
KEY DATES FOR 2021-22 COMPETITION
1 September 2021 - Closing date for entries.
13 September 2021 - Judge Training
13 September 2021 - Public Speaking Draw Released
8, 10, 15, 17 November 2021 - Public Speaking Heats
13 December 2021 - Public Speaking Final Information sent
5 March 2022 - Public Speaking Grand Final