The St Andrew's Day Debating Tournament is the premier event in YSS's debating calendar.
Held annually, this exciting competition pairs pupils from different schools to compete in a day-long tournament.
This competition allows pupils from schools all over Scotland to compete and teams are mentored by university debaters. With its blend of competition, training and mentorship, this is a unique event and opportunity for young debaters.
The Tournament is designed to provide the maximum educational impact, especially for novice debaters. Pupils are also involved in chairing and timekeeping for the debates, on the judging panels, and contributing to the floor debates.
The competition is open to S3-S6 pupils, and younger pupils may attend as supporters. There may be an opportunity for younger pupils to get involved on the day.
2022 COMPETITION
On the 30th November 2022, Young Speakers Scotland hosted the annual St Andrew's Day Debating Competition.
This prestigious event sees schools from around Scotland gather to debate topical issues with one another. Unique to this event is the ability for pupils to participate as judges and chairs. This ensures the day is both competitive, and an opportunity for learning. For many young people, this is their very first debating competition.
'The kids gained so much from the St Andrew's day debate: they have learned so much, and I have too, and feel our fledgeling group will really come on over the next couple of years!' – teacher, Tynecastle High School. 
This year, 20 teams took part in the debate. These teams hailed from all around Scotland- from Aberdeen to Ayr to Dundee. After three exciting preliminary rounds the best four teams broke to a final where they debated the motion 'This house supports a boycott of the 2022 Football World Cup in Qatar'.
Click on the graphic to view a video of the final debate: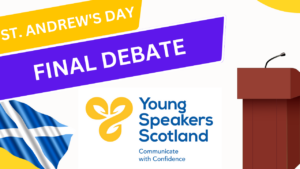 After a high quality and closely-fought final, the debate was awarded to a team from Broxburn Academy. The best speaker was Luke Robertson, also from Broxburn Academy.
The best pupil judge award was given to Zoe Campbell from Loretto School. The runners-up pupil judges were Holly Neary from Tynecastle High School and Henry Jaspers from Robert Gordon's College. Both Zoe and Holly sat on the final judging panel.
Thank you to everyone who helped make the day possible; and in particular to the teachers who helped their schools take part and the volunteer judges, without whom the day would not have been possible.
The motions for the 2022 St Andrew's Day Debate were:
Round 1: This house supports the use of academic streaming.
Round 2: This house believes that high-profile court cases should be televised.
Round 3: In a world where random members of the population are born with superpowers, This house believes that the government should require those with superpowers to make their identities publicly known on a registry
Final: This house supports a boycott of the 2022 Football World Cup in Qatar.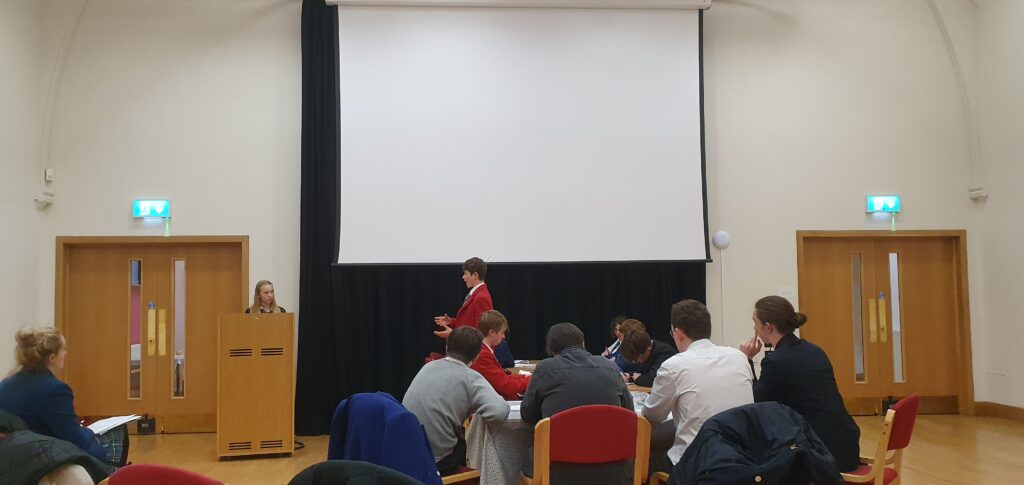 'What a great time our pupils had at Wednesday's St Andrew's Day Debate! Well done not only to S4 pupils, Athena and Jake, who participated brilliantly in the debating competitions, but also pupil judges, Ali and Aveer (both S1), and Maddie (S6) who chaired three debates!' – The High School of Glasgow